COMMITMENT
2 Days
16 training hours
NEXT INTAKE
29 Nov 2023
16th intake (29 & 30 November 2023)
CPD HOURS
18 Hours
HR-related training hours
PROGRAMME FEE
$751.68
Inclusive of GST
To provide an updated overview of the emerging trends of technology-driven human resource management or commonly known as e-HRM to meet the changing needs of new Human Resource Service delivery. As technology becomes more prevalent and cost-effective, many HR services and delivery methods cannot do without HR technologies and related practices. However, many HR professionals, especially in the SMEs, have yet to embrace HR technologies and related practices.
The course aims to bring these HR professionals to the level of foundational HR technology savvy level to take advantage of the trends that will revolutionise the Digital HR world to help maximise human potential and gain business competitive advantage. This is also vital in the journey of becoming a smart nation with the permeation of technology driven management tools.
Course Objective
The 2-day short course explores and evaluates the various Emerging Technologies that affect the effectiveness and efficiencies of human resource service delivery.
The course aims to deliver effective HR services in a cost efficient manner through an optimal and customer-centric service delivery operating model.

The learners shall acquire knowledge to identify opportunities for continuous improvement of service quality or costs, implement HR Transformation programmes to enhance productivity and cost efficiency, adopt a service-oriented mindset and people-centricity in dealing with internal and business stakeholders.

Please visit IHRP website: http://ihrp.sg/ for more details on Short Course – "Emerging Technologies for Excellent Human Resource Service Delivery & Operational Excellence" has been accredited by IHRP.
Interactive Modules
Interactive learning in the form of searching for information on the internet may be needed from time to time. Hence, a laptop or tablet computer with internet access would be useful during the class time.
Who Should Attend?
Senior Managers, Managers and Executives who are involved (not limited to) in effective and efficient Human Resource Service Delivery & Operational Excellence and responsible for identifying and adopting Emerging Technologies for human resource management.
2
Days
16
Hours
–
Sessions
9am to 6pm (inclusive of 1 hour lunch break) *Registration commences at 8:30am on the first day
Introduction: The Significance of HR Service Delivery Model
Understand the changing nature of HR service delivery
Define the scope of HR service delivery strategies to achieve:
– Service-oriented mindset
– People-centric policies and processes
– Cost-efficiency and cost-reduction missions
Understand how HR service delivery is influenced by structure, processes and technology
Comprehend the prevailing HR service delivery models
Applications of Common HR Technologies
Develop technological HR service delivery approach for:
– Cost efficiency and cost reduction
– Development of skills and attenuation of skills
– Manage critical issues and decisions
Understand how to technology influence the various service delivery models of:
– HR Business Partnership
– Centres of Expertise
– HR Shared Services
Describe the transformational HR framework with technological-driven HR Service Delivery
Describe the applications of various HR service delivery models
Emerging Trends in HR Technology & Practices
Envisage the existing and emerging trends of HR Technology and related tools
Identify some of the technological tools that provide needed services for the entire Employment Lifecycle
Identify some of the approaches to evaluate these emerging HR Technology tools and the relationship of technology and service delivery with technology enablement
Identify the opportunities to harness HR Technology and Process re-engineering for continuous improvement
Changing Trends in HR Operations
Applications of Technology driven HR service delivery
Appreciate the outcome of technology driven HR service delivery and organisational change process;
Identify the necessary skill-sets for applying technology for operational excellence in the areas of:
– People-centeredness services
– Service-oriented mindset and processes
– Process optimisation
– Role change
– Organisational redesign
– Continuous Improvement
– Pitfalls in HR Systems Implementation
Common HR Technologies available
Understand the approaches of identifying the needs for technological driven services needed in the critical stages of Employment Life-cycle
Conduct HR service delivery need analysis
Develop technological HR service delivery approach for:
– Sourcing / Staffing / Talent Management
– Effectiveness of On boarding
– Employee Engagement
– Learning and Development
– Employee Performance
– Reward Management
Award of Certificate
Participants must achieve at least 75% attendance and must have passed the competency assessments to attain the Statement of Attainment.

The purpose of the short assessment is to help participants know their SWOT and does not guarantee the success/failure in the actual IHRP Certification Assessment.

Please note that the above Short Course – "Emerging Technologies for Excellent Human Resource Service Delivery & Operational Excellence" has been accredited by IHRP.
16th intake (29 & 30 November 2023)
29 Nov 2023
Application Closing
27 Nov 2023
17th intake (14 & 15 December 2023)
14 Dec 2023
Application Closing
12 Dec 2023
Next intake starts in
57 days
. Apply by
27 Nov 2023
Course Delivery is made up of a combination of active learning, sharing, discussions, participation and hands-on case exercises and short presentations of discussion outcome.

Mode of Delivery will be via Synchronous e-learning during this pandemic situation until further notice from SSG.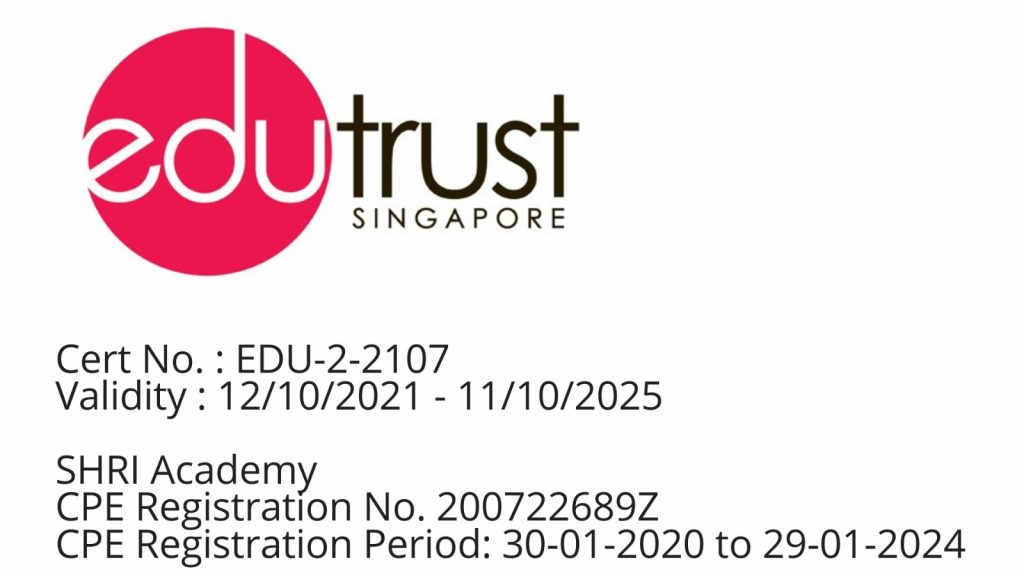 All course registrations are subject to our Terms and Conditions, please click here to view.