COMMITMENT
2 Days
16 training hours
NEXT INTAKE
–
–
CPD HOURS
16 Hours
HR-related training hours
PROGRAMME FEE
$750
Members: S$650.00
Course fee is subject to 8% GST
Gain the career-building talent analytics skills you need to succeed as a talent analytics specialist. No coding experience required.

In this course, you will learn integral skills in data analytics by applying machine-learning algorithms in processing structured and unstructured data. You will learn how to import, clean, manipulate, visualise and analyse human resource data through hands-on interactive exercises. You will learn two easy to use and highly popular tools, Microsoft Power BI Desktop and Orange datamining tool to conduct data visualisations and analysis. With the newly acquired data analytics skill set, you can gain insights into your HR data and make critical data-driven decisions.
Who Should Attend?
HR Data Analyst, HR Executives, HR Managers, HR Generalist, HR Specialist, HR Consultant, HR Business Partner and any keen learners on Talent Analytics
2
Days
16
Hours
2
Sessions
9.00am to 5.30pm (Registration starts at 8.30am on the first day)
Learning Objectives:
Data Science Lingo
– Understand basic data science terminologies and a typical data analysis process.
Data Pre-processing
– Understand the need for data pre-processing and apply essential steps in importing, cleaning and transforming data in preparation for analysis.
Data Visualisation
– Create professional looking HR dashboards using Microsoft Power BI Desktop.
– Tell a data story using the dashboard.
Data Collection Process
– Understand the different ways data can be collected and stored for analysis.
Machine Learning
– Understand the relation between Machine Learning and Artificial Intelligence.
– Apply Machine Learning techniques in employee attrition prediction.
Employee Sentiment Analysis
– Build an employee Sentiment Analysis model to analyse organisation-wide climate survey.
Day 1
Course introduction (What is Talent Analytics and its objectives)
Data analytics terminologies and stages
Sources and type of data
Data pre-processing
Visual Vocabulary and Data visualisation
Workshop 1 – Data Visualisation using MS Power BI
Workshop 2 – Data Storytelling using MS Power BI Dashboard
Discussion & Sharing
Q&A
Day 2
Employee lifecycle
Talent Data collection
Supervised Learning – Regression vs Classification
Workshop 3 – Machine Learning; employee attrition prediction using Orange
Natural Language Processing – Sentiment Analysis
Workshop 4 – Machine Learning; employee survey sentiment analysis using Orange
Discussion & Sharing
Closing
Next intake starts in
–
. Apply by
–
Pop quizzes during lessons.

Completion of an individual assignment on building a HR Dashboard using Microsoft Power BI Desktop application.

Completion of an individual Machine Learning assignment on employee attrition prediction using Orange datamining tool.

Completion of an individual Sentiment Analysis assignment on staff written feedback using Orange datamining tool.
No prior knowledge in data science, machine learning, or statistics is required.

A computer with Internet access, Orange Data mining tool and Microsoft Power BI Desktop installed.
Mode of Delivery will be via Synchronous e-learning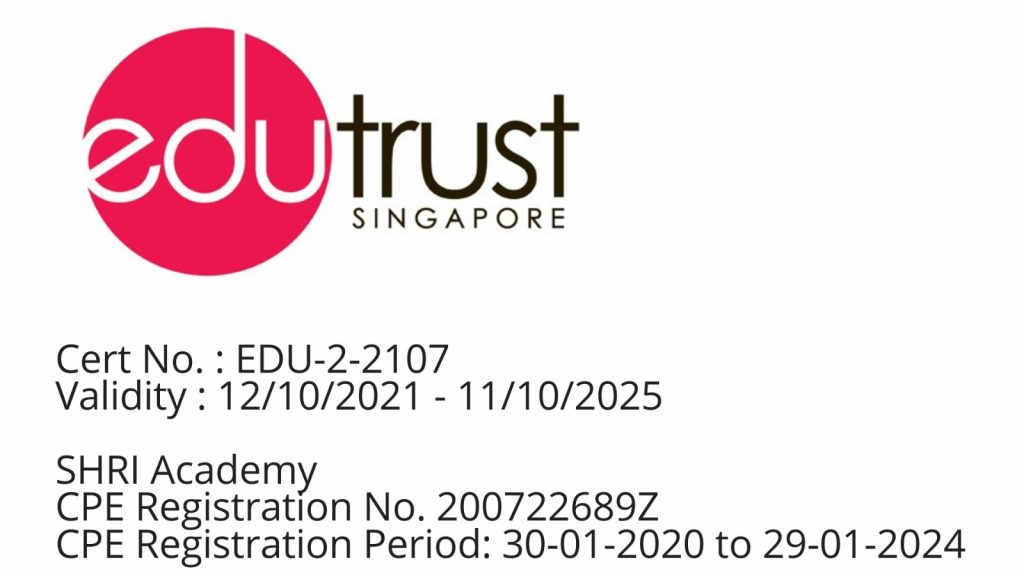 All course registrations are subject to our Terms and Conditions, please click here to view.
If you wish to have an in-house run for this course, reach out to us at corpsolutions@shri.org.sg.