COMMITMENT
2 Days
16 training hours
NEXT INTAKE
26 Dec 2023
8th intake (26 & 27 December 2023)
CPD HOURS
18 Hours
HR-related training hours
PROGRAMME FEE
$648
Inclusive of GST
This is an intensive 2-day Course to enable HR practitioners to be competent in the roles and responsibilities of a HR personnel throughout the HR Life Cycle of Plan, Attract, Develop, Engage and Separate in accordance with the IHRP Body of Competencies. The course is also designed for HR personnel to be better prepared for the IHRP-CP (Certified Professional) on-site assessment of Paper B. The course will cover all the 5 Functional Competencies and their sub-competencies plus the 3 Foundational Competencies (excluding Labour Policies and Legislation which is assessed in Paper A). The mindsets and behavioural competencies are intertwined throughout the course to provide participants with greater contextualisation and to facilitate understanding.
After the delivery of the Short Course, participants should be able to:
-Understand the Five main functional and foundational competencies at an IHRP Certified Professional Level
-Apply the Five main functional competencies within the Mindsets and Behavioural perspectives
-Be able to tackle assessment equivalent to an IHRP Certified Professional Level.
Who Should Attend?
The course is designed for HR personnel who wish to be competent in the roles, responsibilities, and application at a Certified Professional Level. Most suitable for Heads of Departments, Compensation & Benefit Managers, Com & Ben Executives and Officers, HR Senior Managers, HR Managers, HR Executives and Supervisors or any managers/executives who have responsibilities in manpower resources, Operations, Manufacturing, Supply Chain, and any equivalent nature of work.
2
Days
16
Hours
–
Sessions
9:00am to 6:00pm Registration commences at 8:30am
Topics
Functional Competency One – Plan
Functional Competency Two – Attract
Functional Competency Three – Develop
Functional Competency Four – Engage
Functional Competency Five – Separate
Award of Certification
To help participants understand the absorption of Learning Outcome, a short assessment is given within the 2-day Short Course.

If the participant passes the short assessment; a Certificate of Completion shall be awarded by SHRI Academy Pte Ltd.

The purpose of the short assessment is to help the participants to know their SWOT and does not guarantee the success/failure in the actual IHRP Certification Assessment.

However, should the participant be unable to complete the short assessment, a Certificate of Attendance shall be awarded by SHRI Academy Pte Ltd.

Please note that the above Short Course "HR Knowledge Fundamentals: Mindsets & Behaviours – A preparation for IHRP Paper B" has been accredited by IHRP.
8th intake (26 & 27 December 2023)
26 Dec 2023
Application Closing
22 Dec 2023
Next intake starts in
22 days
. Apply by
22 Dec 2023
A total of 16 hours with in-class discussions and presentations over 2 full weekdays. This will include 2 hours of open-book assessment.
Mode of Delivery will be via Synchronous e-learning during this pandemic situation until further notice from SSG.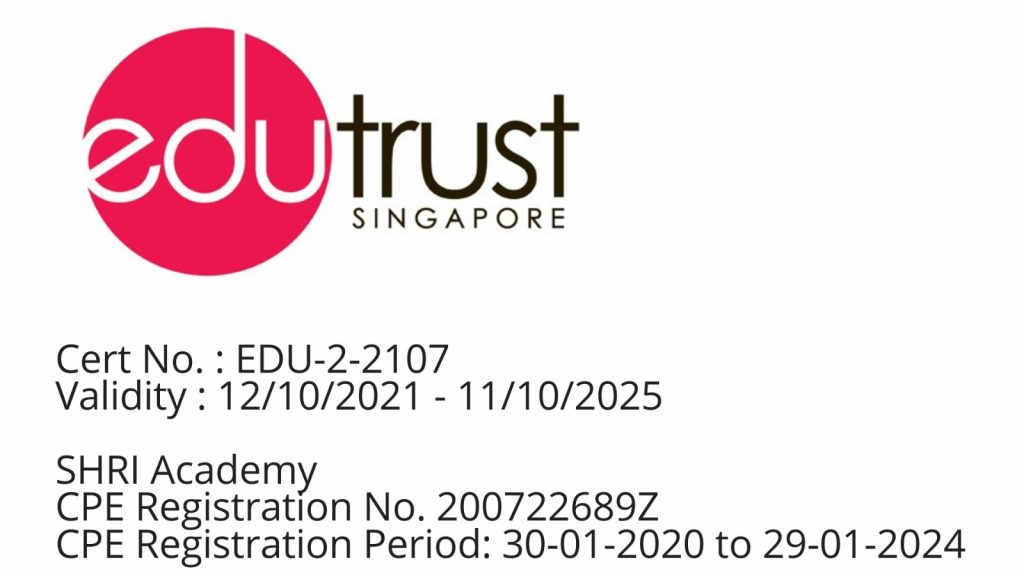 All course registrations are subject to our Terms and Conditions, please click here to view.