As of September 1, 2023, there will be a new way to decide if foreign professionals can work in Singapore. Businesses need to start getting their applications ready.
The Complementary Assessment Framework, or COMPASS, was introduced by Singapore's Ministry of Finance in the 2022 Budget Statement. It is the most important change to the process of getting a work pass in Singapore in recent years.
This framework will decide if high-value foreign professionals, like scientists and researchers, managers, specialists, and trade workers who will add to our workforce and help the economy grow and innovate, are allowed to come to the United States.
It is also meant to make Singapore's workforce stronger by giving companies more information and making it easier for them to hire foreign professionals to work with their local workers.
The two stages of COMPASS
Stage 1: Qualifying salary (the candidate must earn at least SGD10,000/month)
Stage 2: Points-based immigration system – COMPASS (the candidate must earn at least 40 points)
Applicants must pass COMPASS by getting at least a certain number of points based on their own and the company's needs. To pass COMPASS, applicants must get at least 40 points. These points can come from a mix of foundational criteria and bonus criteria.
To pass COMPASS, applicants will need to earn at least 40 points by meeting 4 foundational criteria and 2 bonus criteria based on several individual and company criteria. Points will be given based on the following:
Do not meet expectations: 0 points
Meet expectations: 10 points
Exceed expectations: 20 points
For example, a candidate can pass if they get 20 points on the basic criteria and 20 points on the bonus criteria. If a candidate falls short in one area, they can make up for it in another.
COMPASS foundational criteria
The foundational criteria are an individual's salary and qualifications, as well as the firm's workforce diversity and support for local employment.
Individual's Salary
Applicants earn points by meeting sector-specific benchmarks for local professionals, managers, executives and technicians (PMET) salaries.
Points allocation:
Below 65 percentile: 0 points
65 – 90 percentile: 10 points
≥90 percentile: 20 points
Assessment will be based on business activity declared to the Accounting Corporate and Regulatory Authority (ACRA) and further information will be released by September 2023.
For example, a candidate whose salary is at the 70th percentile compared to local PMET salaries in their sector will be able to score 10 points.
Individual's Qualifications
It is not a mandatory requirement under COMPASS.
Points allocation:
No degree-equivalent qualification: 0 points
Degree-equivalent qualification: 10 points
Top-tier institution (top 100 universities based on international rankings, Singapore's autonomous universities and highly recognised vocational institutions): 20 points
Firm's Diversity
It checks to see if the applicant makes the company more diverse in terms of nationalities.
Candidates can get more points if their nationality makes up a small portion of the employer's PMETs.
The Ministry of Manpower's (MOM) records show an applicant's nationality based on their passport. MOM's requirements for PMET are that the worker must make at least 3,000 SGD per month.
Points allocation:
Less than or equal to 25%: 0 points
5-25%: 10 points
Less than 5%: 20 points
If the applicant's employer has less than 25 PMETs, they automatically get 10 points.
Also, an applicant will get at least 10 points if their employer's share of local PMET workers is at least 70%, which is the 20th percentile of all employers in the economy.
This is true no matter where an employer stands in their subsector, and there is a way to make sure that companies in subsectors with a lot of local PMETs don't get punished.
COMPASS Bonus Criteria
Skills Bonus
Applicants can get 20 points if their job is on the Shortage Occupation List (SOL) and requires highly specialised skills.
The SOL hasn't been finalised yet, but it may include roles related to information and communications that help Singapore's digitalization drive.
It is due to be ready in March 2023.
To encourage diversity, applicants will only get 10 points if at least 1/3 of the employer's PMETs are from their country.
Strategic Economic Priorities Bonus
Applicants can get 10 points if their employer meets certain assessment criteria for innovation or internationalism activities.
Employers must also take part in certain programmes run by different economic agencies or meet certain assessment criteria by showing they are committed to improving the local workforce or ecosystem.
And in March 2023, a list of government programmes, their eligibility requirements, and how to apply will be made public.
Are there any exemptions from the COMPASS requirement?
Employers can get out of meeting COMPASS requirements if at least one of the following three conditions is met:
Makes a fixed salary of at least 20,000 SGD a month;
Applying as an overseas intra-corporate transferee under the WTO's General Agreement on Trade in Services or an applicable Free Trade Agreement that Singapore is a part of; or
Filling a short-term role (e.g. 1 month or less)
What can HR do today?
The COMPASS introduction shows companies and HR how important it is for Singapore to find a balance between protecting the local workforce and making it more diverse.
HR and companies can start by undergoing training to learn about the COMPASS principles, figure out what needs to be improved and how to fix it, and analyse and review the workforce ratio and diversity.
Then, they can take steps to measure and compare performance in the third and fourth foundational criteria, which are about diversity and helping local PMETs.
On the enhanced Employer Data Portal (EDP) on myMOM Portal, employers will be able to see how their local PMET share compares to their peers in the same industry.
Since the Employment Pass Framework has changed in a big way, it is up to HR to start looking at their hiring and global mobility processes right away.
Start to look for PMETs among employees who earn at least 3,000 SGD because they meet criteria 3 and 4. (diversity and support for local PMETs).
It's important to know this because employers with less than 25 PMETs will automatically get 10 points for both foundation 3 and 4, for a total of 20 points (accounting for half the total number of points needed to pass COMPASS).
In Conclusion
COMPASS tries to find a middle ground between having the right number of foreign professionals and making sure that qualified Singaporeans don't lose their jobs to foreigners.
Given that this is the first iteration, we can expect the framework to be refined overtime as real-case situations meet pre-written textbook solutions.
But the transparency will be a good step forward as everyone will have the same goal post to aim at and be on equal rules to attract the best possible talent for the organisations.
If you are keen to strengthen your knowledge in Singapore's labour law, join our two-day IHRP accredited short course on Employment Legislation & Industrial Relations.
Guest post by CGS-CIMB Securities (Singapore) Pte Ltd
At CGS-CIMB, we are cognizant of the evolving labour landscape and the need for companies to adopt progressive human capital practices as part of their Employee Value Proposition.

A successful talent retention strategy has many facets, of which we have enhanced a few in recognition of the evolving employee mindsets post pandemic.
Fostering a culture that strengthens both remote and collaborative environments
Our employees have the flexibility to work remotely to cater to their personal circumstances. Critically, we have fine-tuned our policies, allowing us to balance multiple objectives such as ensuring the spirit of collaboration and productivity remains strong, while having flexibility for all not to be physically present in the office.

Culture is paramount to ensure the sustainability of a hybrid working environment. Specifically, the need for a culture that fosters mutual trust and personal responsibility. The key is an environment which there is a shared sense of responsibility, ownership and understanding.
Managers must evolve from the traditional mindset of assessing based on physical presence or number of hours, to one which places emphasis on quality of outcomes and deliverables,
The spirit of reciprocation from employees is equally paramount. Essentials such as remaining responsive and availing oneself should continue to be underlying work practices, regardless of the location.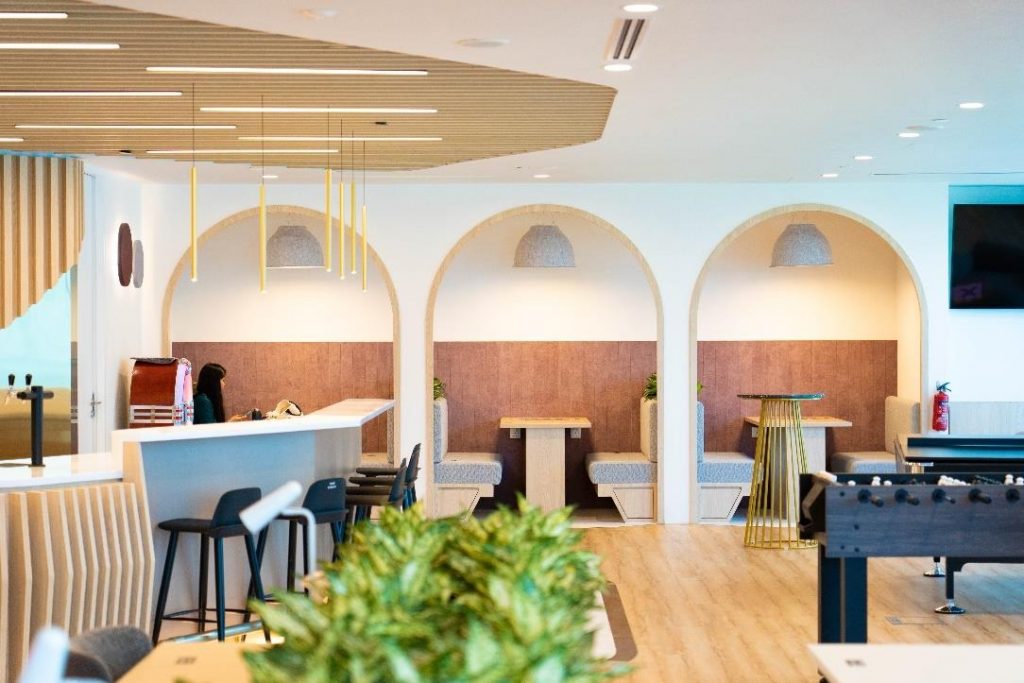 Dedicated efforts were also made to ensure that our physical premise promotes this spirit of Collaboration. Our re-designed "Co-Working Space" is our new area for work-related discussions and to foster collaboration amongst staff from different teams.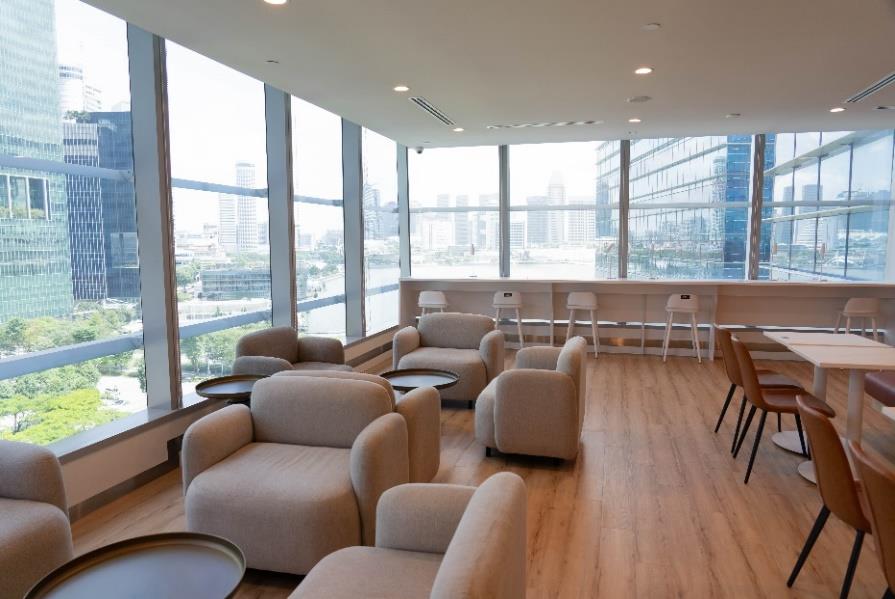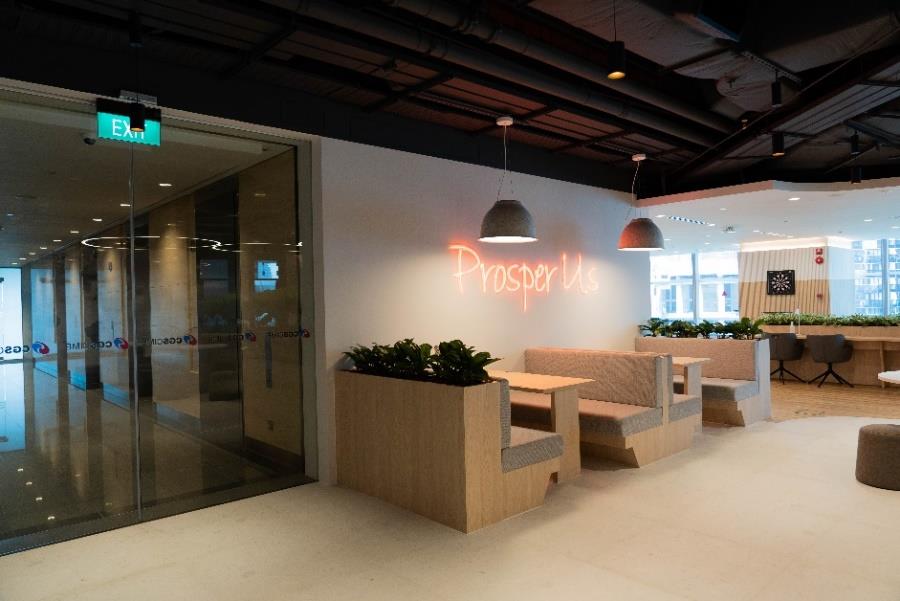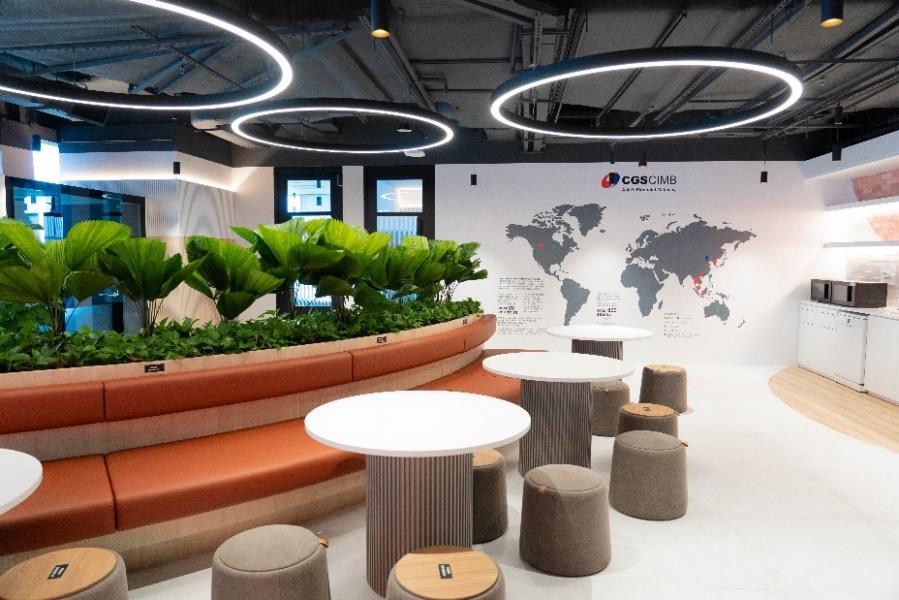 It is designed purposefully in a non-formal setting to promote and facilitate creative thinking and ideation during work-related discussions. To promote bonding, recreational amenities are also available to staff, with amenities such as Table Tennis, Billiards, Foosball, Dart Board, Chess Board and a Juke Box.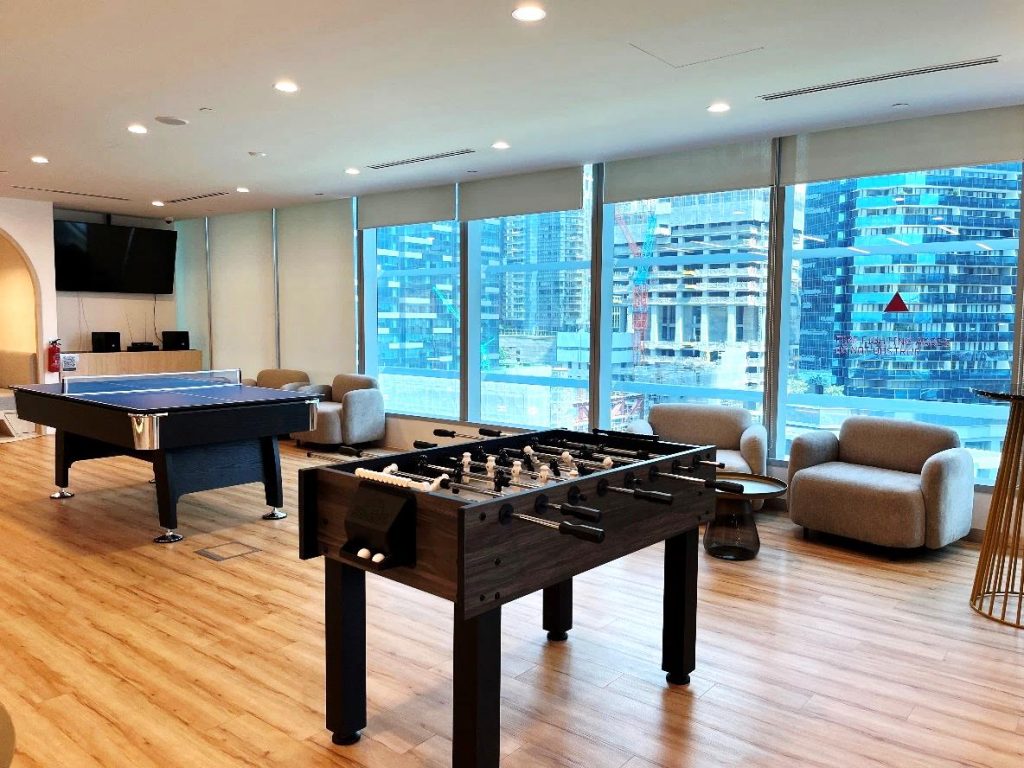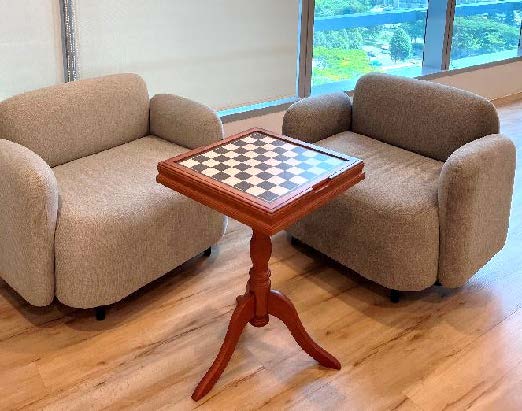 Conscious focus on Employee Wellbeing
We re-designed our framework to ensure a holistic approach to Employee Wellbeing. Our Framework focus on 4 Core Pillars, viz. Mental Wellness, Physical Health, Family-Focused and Team Member-Focused Initiatives. Activities including those focusing on employee's Mental Health have been planned for 2022.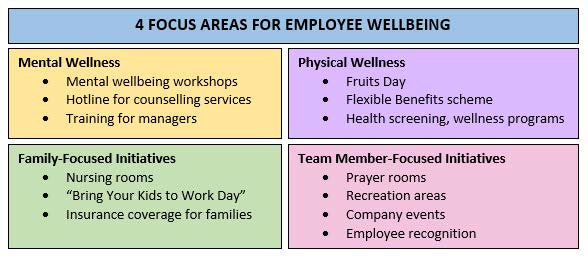 Promoting Employee Engagement through CSR and Employee Involvement
A key element in retention is promoting a sense of belonging. CGS-CIMB's approach to this is to facilitate our employee's involvement in our CSR activities, which is a key anchor in our overall Vision and Purpose.

The Company's commitment towards ESG and CSR is enshrined in our Group's Five-year Vision Strategy. This commitment is manifested in many initiatives including our partnership with Community Chest for their SHARE Program and Change for Charity Initiative, our on-going partnerships with Republic Polytechnic and Nanyang Polytechnic to champion Financial Literacy for youths, and our upcoming Investment Challenge competition which see CGS-CIMB partnering with up to ten tertiary education institutions in Singapore.

As part our employee involvement, we are planning to participate both the Ministry of Education's UPLIFT programme and the UN Global Compact's Young SDG Leaders Award, both of which will involve volunteerism and participation from our staff and business leaders.
We have been seeing recent focus on the hiring market in Singapore workers to be shifting towards capabilities and skills based generally across industries. At SHRI, we recently did a survey pertaining to the "Singaporean Core" agenda and have gathered interesting insights based on the survey findings to be able to share this article "Capabilities required in Singapore HR Professionals to remain relevant and competitive on the Global Stage" which ties closely to the latest talk in town.
Click on the pdf to view the full article on "Capabilities required in Singapore HR Professionals to remain relevant and competitive on the Global Stage".
The world is now standing at the crossroads.
At this critical juncture, we are faced with two choices – to transform or perish. As the Greek Philosopher, Heraclitus, once said, "change is the only constant". 2020 was a stark reminder that we must learn to adapt or risk being eroded by time. The same holds true for our profession. It is thus imperative that we re-examine our capabilities and skillsets, and reinvent ourselves for the future challenges that await. The adoption of a growth mindset is key to successfully navigating this world of flux.
The Road Ahead
The onset of COVID-19 has brought about many changes to the world of work, with the most significant being the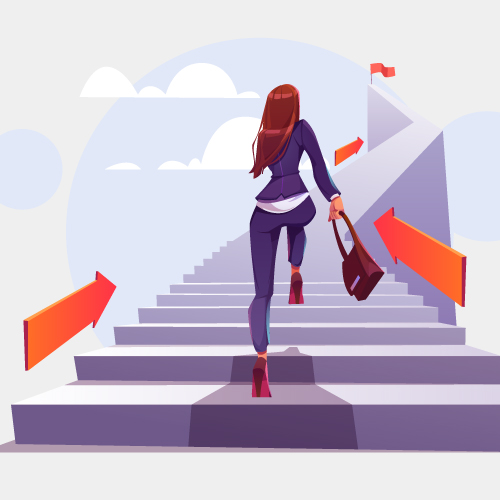 rapid acceleration of digitalisation and remote working as companies were forced to adjust to the "new normal" way of operating their businesses. The era of big data and tech is now right on our doorstep, soon to be ushered in by the digital natives – those in Gen Z that were born between 1997-2010 and who grew up around digital technology – as they enter the workforce. In the years to come, digital technologies will become more firmly embedded within our work and the new decade will be defined by the use of digital tools and systems and predictive data analytics. For older workers this means that upskilling and reskilling is on the agenda to enable them to stay relevant amidst the changing work landscape. This is especially true given that Singapore is predominantly a knowledge-based economy.
A second major phenomenon that has been hastened by COVID-19 is the upsurgence of the gig economy. Broadly defined, the gig economy encompasses a wide spectrum of workers and pay scales, ranging from highly skilled mobile professionals to full-time independent contractors (such as freelancers and consultants) and workers belonging to the informal economy (such as ride-hailing Grab drivers and food delivery drivers). To put it simply, gig workers are contracted to work in short-term, temporary assignments for one or a variety of employers. There are two major factors driving the popularisation of the gig economy. On the one hand, many workers who have been faced with salary cuts, temporary layoffs and retrenchments as a result of the pandemic crisis have turned to gig work in the interim for primary or supplemental income. On the other hand, gig jobs are more appealing to employers than ever due to the cost-savings and greater flexibility that it offers in comparison to hiring a permanent employee. In these unprecedented times, the ability to afford permanent talent has become a luxury for businesses affected by COVID-19, especially small and medium enterprises (SMEs). Freelancers fill the gap by providing much-needed expertise to companies without requiring any long-term commitment.
Traditionally, the bulk of the gig economy has been made up of workers in the informal sector whereas knowledge workers such as engineers, consultants and management executives remain largely untouched by it. This is mainly attributed to organisational resistance due to the perceived threat gig work presents to building a cohesive organisational culture and concerns regarding effective cooperation and worker productivity. These are the same organisational barriers that are inhibiting companies from adopting remote work for full-time employees. However, with remote working becoming normalised in the workplace as a result of COVID-19, we may at last witness the gigification of white-collar jobs and a transformation in the mainstream approach to work.
---
Gearing Up for The Future
Old habits die hard, thus do people and organisations fear and resist change. Nevertheless, there needs to be a paradigm shift in the way we approach it. Change is inevitable. By embracing,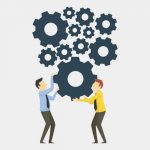 anticipating and actively taking steps to address it, we would be able to pivot quickly when change finally arrives. As Benjamin Franklin has so aptly put it, "if you fail to plan, you plan to fail" –
COVID-19 epitomises this. The repercussions of 2020 are deep. The world has witnessed firsthand how unpreparedness resulted in policy failure. Years of human development progress vanished overnight as unemployment numbers skyrocketed and millions are pushed back into poverty. Even now, the world economy teeters on the brink of recession. The lesson from this is clear – strategic foresight and change leadership are of the essence.
The future of work calls for agility and flexibility. For individuals, this means that breadth of knowledge will become as important – if not more so – than deep expertise. The old adage that "a jack of all trades is a master of none, but often times better than a master of one" holds true even in contemporary times. It is the generalist, not the specialist, who will be better poised to adapt to the workplace of the future. Essentially, the generalist is an individual who is able to draw on complex bodies of knowledge to solve specific problems. This multidisciplinary approach to problem-solving is critical because in today's globalised economy, it has become a commonplace for developments in a particular area to create ripple effects in a seemingly unrelated field. Already, the call for generalists is reflected in a world economic forum survey which reports that the skills most desired by leading global employers are:
1) analytical thinking and innovation,
2) active learning and learning strategies,
3) creativity, originality and initiative,
4) technology design and programming,
5) critical thinking and analysis, and
6) complex problem-solving.
According to Lisa Stern Hayes, one of Google's top recruiters, the company prizes problem solvers who possess a general cognitive ability over role-related knowledge. This is relevant because with digitalisation and technological advancements, old roles are constantly being made redundant even as new ones emerge. With how quickly change occurs, companies need to be assured that they will be able to redeploy the person they hire to other functions, hence the need to recruit an individual with a versatile skill set.
---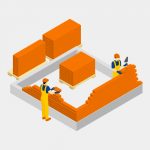 Building the Foundation
The key to a successful transformation lies in having a strong organisational foundation. For businesses, this means developing a good human capital strategy to steer the organisation and ensure that everyone is keeping pace with change. Fronting the agenda is job redesign – the process of rethinking tasks and responsibilities to better align roles with the changing environment, both internally and externally. With digitalisation and Industry 4.0 innovations improving productivity and redefining how organisations derive and deliver value, there is a need to evaluate which roles will be eliminated and cross-train employees so as to reduce redundancy. HR will also need to analyse how digital technologies affect job tasks, eliminate inefficiencies and help employees – especially older ones – adjust to a digital workplace culture. Now more than ever, it is essential for businesses to conduct a learning needs assessment. In a recent joint poll conducted between Segal—a leading global HR and management consulting firm—and Chief Executive Group, it was revealed that many of the changes implemented in 2020 by businesses to support workers and operations were reactionary.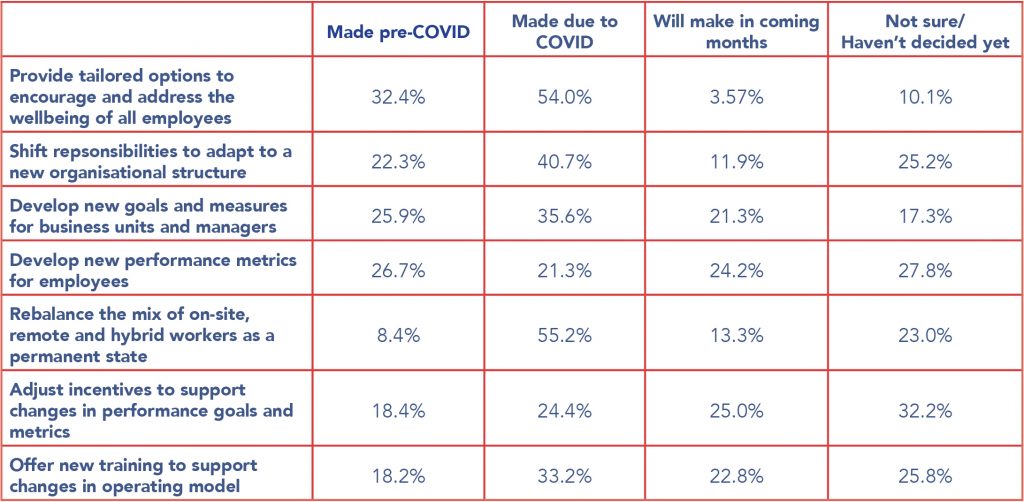 With the lessons gleaned from 2020, business leaders and HR will need to proactively consider howthey can revamp the way they conduct business and place the company in a stronger position to compete in a changing world. Embracing diversity and inclusion strategies is one area to be looked into. Businesses and HR leaders should also survey how to effectively manage and engage gig workers. As highlighted earlier, the gig model will undoubtedly expand in the future and with it, there will be a corresponding shift in the way benefits of employment are meted out. Business leaders and policymakers must come together to create a permanent social safety net for gig workers to ensure the long-term viability and sustainability of the gig economy – for example, extending vital workplace benefits such as paid sick leave to gig workers and giving them greater collective bargaining rights. The journey through change will be long – it is crucial for people and organisations to pace the change and understand not only their destination, but also be intimately aware of their own starting point. More importantly, have courage, let innovation and creativity reign. As Tom Althouse once said, "fear not the unknown, for it is a sea of possibilities."
---
Some Useful Resources
Here are some of the SHRI Transformational and Digitalisation Programmes which may be of interest to you
• Building a People Analytics Strategy
• Delivering Transformational Change
• Digital HR Strategy
• Emerging Technologies for Excellent Human Resource Service Delivery & Operational Excellence
• Human Resource Analytics and Insights
• Workforce Planning Essentials
The 15th Singapore HR Awards
In recognising and celebrating HR's effort, agility and resilience in 2020 amidst the pandemic, we also look forward to your participation at The 15th Singapore HR Awards
---
Bibliography
• Hermann, I. and Paris, C.M., "Digital Nomadism: the nexus of remote working and travel mobility", Information Technology & Tourism 22, no. 1 (2020): 329–334, https://doi.org/10.1007/s40558-020-00188-w
• Karianne Gomez, Tiffany Mawhinney and Kimberly Betts, "Welcome to Gen Z," Deloitte, May 2019,
https://www2.deloitte.com/content/dam/Deloitte/us/Documents/consumer-business/welcome-to-gen-https://link.springer.com/article/10.1007%2Fs40558-020-00188-wz.pdf
• Olivier Meier, "Two Minutes to Understand and Prepare for the Rise of Expatriate Gig Workers," Mercer, October 12, 2020,
https://mobilityexchange.mercer.com/insights/article/two-minutes-to-understand-and-prepare-for-the-rise-of-expatriate-gig-workers
• John Frazer, "How The Gig Economy Is Reshaping Careers For The Next Generation," Forbes, February 15, 2019,
https://www.forbes.com/sites/johnfrazer1/2019/02/15/how-the-gig-economy-is-reshaping-careers-for-the-next-generation/?sh=302eb3c649ad
• Rebecca Henderson, "How COVID-19 Has Transformed The Gig Economy," Forbes, December 10, 2020,
https://www.forbes.com/sites/rebeccahenderson/2020/12/10/how-covid-19-has-transformed-the-gig-economy/?sh=30518c4f6c99
• Lanna Deamer, "How the Gig Economy Can Save The UK SMEs Post-COVID-19," Startups Magazine, September 2020,
https://startupsmagazine.co.uk/article-how-gig-economy-can-save-uk-smes-post-covid-19
• Sameer Hasija, V. "Paddy" Padmanabhan and Prashant Rampal, "Will the Pandemic Push Knowledge Work into the Gig Economy?," Forbes, June 1,
2020, https://hbr.org/2020/06/will-the-pandemic-push-knowledge-work-into-the-gig-economy
• Paul Blake and Divyanshi Wadhwa, "2020 Year in Review: The impact of COVID-19 in 12 charts," World Bank, December 14, 2020,
https://blogs.worldbank.org/voices/2020-year-review-impact-covid-19-12-charts
• Vikram Mansharamani, "Harvard lecturer: 'No specific skill will get you ahead in the future'—but this 'way of thinking' will," CNBC, June 15, 2020,
https://www.cnbc.com/2020/06/15/harvard-yale-researcher-future-success-is-not-a-specific-skill-its-a-type-of-thinking.html
• Vikram Mansharamani, "All Hail the Generalist," Harvard Business Review, June 4, 2012, https://hbr.org/2012/06/all-hail-the-generalist
• World Economic Forum, The Future of Jobs Report (Geneva: World Economic Forum, 2018), 12.
• Ruth Umoh, "Top Google recruiter: The most important skill you should have to score a position at the company," CNBC, November 28, 2017,
https://www.cnbc.com/2017/11/28/the-most-important-skill-you-should-have-to-score-a-job-at-google.html
• Fred Hencke, "Hindsight 2020: CEO Poll Reveals Key Lessons For The Future," Chief Executive, January 19, 2021,
https://chiefexecutive.net/hindsight-2020-ceo-poll-reveals-key-lesson
Throughout history, we have earmarked special days of the year to acknowledge great achievements and significant breakthroughs that have advanced our societies. The purpose is to recognise these feats achieved by the great many. Perhaps, the underlying tone is also to inspire others to follow and the will to want to do better. Similarly, on the 26 September of each year, we mark a very special day, a rather low theme, low affair and probably insignificant in the commercial retail world as well – This day is none other than our HR Professional Day. This day will come and pass like many others since it was first mooted in 2013 with likely no special discounts on social media, no special announcements by the media and etc.
Not that we, as HR professionals clamour for, but, here at the Singapore Human Resources Institute (SHRI) – it is a significant day and especially this year. 2020 is not only a new decade, it is a very symbolic one where all HR Professionals have come together to ensure that our workforce is safe, productivity levels are kept at pace, ensuring that we transit our workforce through reskilling and upskilling, managing the remote working conditions of our people and all these done at an intensive pace. We can never say in front of our workforce that we are having a bad day, we can only bravely put up a confident, employee and business-centric and caring front. Though the reality is that we have had bad days but have courageously soldiered on, working in the trenches with our business leaders.
Why is 2020 a momentous year? Not because it is a new decade, it WILL become a year for all HR professionals to look back with pride on what we had done thus far amidst COVID. We hope to inspire future generations of HR professionals to look at doing better in a collective manner, doing better than what we have done!
26 September might come and go without pomp and party streamers, but here at SHRI, we would like to say THANK YOU to all HR Professionals who are soldiering on!
Alvin A. Goh
Executive Director
SHRI
The media has been abuzz about the recent increase in salaries for Employment Pass (EP) and S Pass (SP) applications and renewals. The question many are asking is what will be the possible impact for companies and the workforce composition here in Singapore? What has brought us to this stage that it needed a global pandemic to give rise to this issue? From what I hear from the ground, the HR community seems divided, and everyone has a different point of view. Be it right or wrong, justified or unjustified, a balance needs to be found—a balance based on economic needs whilst taking care of our citizens and their livelihoods.
Fair Consideration Framework
Singapore's Fair Consideration Framework took effect on 1 August 2014 and subsequently, a watchlist of companies that were suspected of having discriminatory hiring practice was introduced in 2016. These companies that were placed on the watchlist had an exceptionally high share of foreign PMETs compared to industry peers or a high concentration of PMETs from a single nationality. To be fair to the Ministry of Manpower, a total of 3,200 employment passes were either rejected or withdrawn. However, the question remains, is it sufficient to ensure that organisations that operate here in Singapore go about ensuring that they continuously look at building a Singaporean core in their workplace?
Grooming Singaporeans
Singapore is a meritocratic society with a diverse workforce in terms of ethnicity, religion,age and gender. We have well thought out policies and best practices available to many organisations, such as TAFEP's guidance on fair employment practices where employers should look towards relevant and objective selection criteria. The theme of providing opportunities for all Singaporeans became a major focus of the Government's agenda, when we launched a national conversation on the country's future direction, called Our Singapore Conversation, in 2012. Again, what has been done over the last 8 years to rectify this so-called imbalance? What must the HR community do to ensure that we abide by a merit-based talent acquisition strategy? The past and current work that we have done in upskilling, reskilling and reframing our talent; has it been sufficient and importantly, impactful? We cannot expect to be grooming our talents with programmes that are outdated. A conscientious effort is needed to look beyond developing strengths and weaknesses. We also need to take into account new skills that are needed for the future workforce, programmes that look into building higher analytical and conceptual thinking skills, the use of big data and making sense of how data can translate into management decisions, policies, and strategies
As a talking point – Human Capital in our Financial Sector
In 2015, the world economic forum rated Singapore just a mere five points behind Hong Kong in their Global Financial Survey Index. Looking at this survey, Singapore has been on a change and transformation pathway wanting to claim the top spot as the region's financial hub for the last 10 over the years, and we did surpass Hong Kong a few times in the past few
years.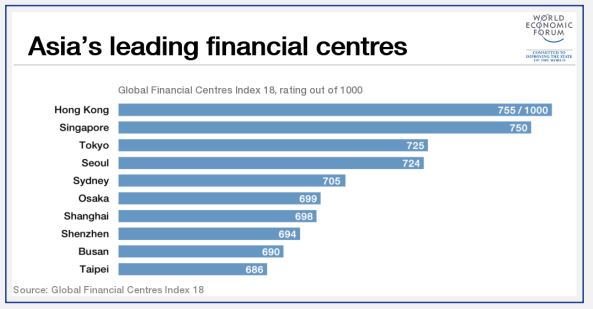 Based on the survey criteria, a general Human Capital index is one of the aspects that contributed to this survey https://globalfinancialcentres.net/explore/. Yet, what we found is that in Hong Kong, the population of expats are 4.6% of the total population, of which, 3%are corporate transferees, and of these, 45% are in the financial sector https://www.go-globe.hk/hong-kong-expats/. Whereas in Singapore, 64% of the companies that were placed on the watchlist are from financial and professional services sectors. They include banks, fund managers and management consulting firms.
The message here is not about Singaporeans versus Foreign Talent. The crux here is, if we have been on a change and transformation pathway for the last 10 over years wanting to be a powerhouse in the financial industry, all things being equal, shouldn't the development of local talent here in Singapore follow the same posturing? Talent development is key to building a viable and sustainable local workforce. Building a Singaporean core is necessary
as local talents be it here in Singapore or other countries are the foundation of any organisation. We have pulled out all barriers, set aside funding for training and development, put together a comprehensive body of competencies, ensure that funded training programmes follow a robust skills framework, it would be silly of us not to capitalise on these programmes to develop our talent. I'm sure we have spent a considerable sum of money in developing our local talents for the financial sector, as such, to say that we cannot find capable local talents seem out of whack, or is there more to it?
A suggested thought process to aid HR Professionals when hiring
Quality over Quantity, I cannot agree more and perhaps, using this thought process to drill down further. We should look at the following parameters on what defines the quality of talent and use it as a guide to compare the threshold and differentiated levels for development and selection of talent. The world of competencies have been around for decades, and there have been significant research and various models that one can easily learn and follow. To drill down, perhaps organisations can look into the following
competencies in a broad sense:
Universal Competencies
Leadership Competencies
Unique Competencies
Universal competencies look at what all employees should and must have and is an extension of the values of the organisation. For example, being customer-centric, having teamwork, effective communication, responding with sensitivity and compassion, being able to work with ambiguity etc. General behaviours that are observable and can be trained and developed. Skillsets that are lasting and forms the fabric of the organisation.
Leadership competencies, on the other hand, are skills and abilities that are to be performed in varying roles and requires experience to recognise the situation so that an appropriate level of intervention is called. The laundry list of what entails leadership competencies are aplenty, and one can simply go google and read from the various leadership gurus. Leadership development is not going to happen overnight just because we have sent a High Potential (HIPO) to some top tier leadership school or have assigned an executive coach. It takes time and necessary exposure for one to develop the necessary skillsets. The opportunity to practise, to learn, to lead and to be coached – the whole ecosystem needs to come together to develop a leader.
Unique competencies are the competencies that can be classified as specialised abilities or knowledge within a specific role or job. Knowledge that requires in-depth awareness of a particular environment or subject matter. Thought leaders or experiences gained over an extended period.
In today's context, there are many tools that can enable us to ascertain the variouscompetencies that one possesses. We need not rely solely on human judgement nor haveto sit through long sessions of psychological testing or behavioural interviews to ascertain the desired competencies. Evidence-based management tools are widely available in today's HRTech world that can aid organisations in their hiring decisions. The use of analytics and movement towards evidence-based management has started and will become a key tool in the new normal.
---
Finally, A Personal Thought
I read with interest an article posted by Joanna Yeoh sometime back on the challenges that she had to go through in the past, and since that posting, many have come out to share similar experiences. As an afterthought, I felt that many HR professionals are left without a lifeline, though we strongly know that for all the good reasons, we need to abide by our Fair Consideration Framework, we are very much left stranded. Any contradictive recommendations to want to hire a local versus a foreigner would imply that we are 'not team players'! As such, towing our immediate supervisor or hiring manager's line became a corporate survival for many.
As a profession, we are all called to develop the best for our organisation, to identify talent based on the needs of our organisations and to identify new competencies that are needed to drive our organisation forward – to build a busload of qualified talent and future leaders. If we continue to fill our buses with talent through poor talent acquisition strategies or our failure to develop future talent. In that case, we are then responsible for the decaying talent pool, and I can assure you that our organisations will fail.
What got us here 10 years ago is not going to bring us in the new normal, we need to look towards building our talent today so that they can help transform our organisation and move away from the traditional brick and mortar. Corporate survival is not just about 'towing the lines' and being a 'yes' person, we need to have the moral courage to call out on unfair HR practices, to address inadequacies in our development plans and make a commitment to eliminate any form of discrimination. I urge all HR professionals out there, to look towards competency and merit-based talent acquisition strategy and if ever, a lifeline is needed, give us a buzz!
Alvin A. Goh,
Executive Director,
SHRI
We live in a world of flux and constant change, as such, it does not surprise me that some ofthe HR roles as identified in the study shows that 90% of the HR roles will be disrupted. Anything that is what I would call – 'consistently consistent' can be disrupted or even replaced with technology or automated. Jobs and even HR roles that have always pride ourselves to be a people centric function has also evolved over time.
The timeline for HR to change and transform has always been there, we knew to some extend that even without COVID-19, the face of the workforce will have to change by the mid 2025. By the year 2025, majority of the baby boomers, if not all, would have somewhat retired from the workforce and the digital natives (those born in the year 2000 and beyond) would have already started to come into the workforce. The digital natives who have grown up with a Smart Phone in one hand and milk bottle in the other, present a new workforce like no other. They are extremely tech savvy and have gotten used to high-code platforms. As such, if HR still think that they can get away with low-code technology or platforms, we should rethink our offerings.
I would like to imagine in the future that the HR department is one that is truly a strategic business partner. We perhaps, need to drop the letters HR in its entirety and simply refer ourselves as business partner. To become a business partner, we need to fully understand the key aspect of business, its risks and challengers, areas of mitigations and compliance, evolving consumers demands and needs and all these brought together and fused by technology. We need to get comfortable with numbers, make sense of numbers and translate and relate them towards assisting our business leaders to make better and holistic decisions. We need to get into what I would term – the People Intelligence Space to complement the Business Intelligence. It is through the coming together of all the HR levers, combing them with data and developing these insights that will form the People Intelligence View. In order for CHROs to be credible, we cannot just run a tight ship on excellent processes and procedures. We need to reflect our capability as a business partner and be fiscally responsible.
Though the report highlighted three trends, not only that we should be using data as a predictive perspective, a key aspect is also about the preventive analytics that should also be looked into. With preventive analytics we are also able to then perform and up our game. To be the creator of a more robust talent strategy to be able to identify and as well manage key talents for retention and succession. To look holistic into key aspects of strategic workforce planning and as well using these data to challenge status quo and plan for strategic enterprise changes.
We are still not too late in the change and transformation game and as I have been advocating, it is perfectly alright to be uncomfortable with these impending changes.
Alvin A. Goh,
Executive Director,
SHRI
---
Study on the Impact of Technology on Human Resources Jobs & Skills is a
research report by Willis Towers Watson. The report was commissioned by the
Institute for Human Resource Professionals (IHRP) and the Ministry of
Manpower (MOM).
IHRP and SHRI would like to thank all HR Professionals for their hard work and dedication to their organisations during this period.
Thank you for being agile
• Over the last three months, COVID-19 has disrupted business operations in unprecedented ways around the globe, and the focus of businesses has shifted – with crisis response and employee safety and well-being taking top priority
• Amidst the volatile and ambiguous business environment, HR has risen to the challenge in guiding leaders to navigate through the crisis. Although the pandemic has stretched HR responsibilities beyond employee life cycle management, our community has continued to stand united
• We are heartened to see that despite the many preoccupations at work and home,members of the HR community have stepped up to give back tirelessly, above and beyond the call of duty, through volunteering, generous sharing of ideas and curating useful resources for the HR community
• Kudos, for swiftly adapting policies and people programmes to support businesses in remaining nimble and achieving greater strategic outcomes
Thank you for showing unwavering care and concern
• In most companies, it is the HR function that is at the forefront of protecting employees with safe workplace practices. Though these efforts may not always be appreciated, you persist in doing what is right, and in the broader interest of the employee, organisation,and community
• HR professionals need to show maturity and strength while balancing the emotional needs of the people around you. As you hold tough conversations about wage cuts,redeployment, or worse; termination, feelings of anxiety, fear and despair are felt deeply by you. These emotions are often hard to bear yet you managed to serve with compassion, empathy and care, providing dignity for the people around you.
• Even as you reassure and constantly keep in mind the mental well-being of your employees, please do not forget to take care of yourself first
Thank you for your commitment towards all that you do.
• Do not be discouraged. STAY POSITIVE. We acknowledge the tremendous contributions by you and applaud you for not giving up, for shining and delivering amid the pandemic
• We urge you to remain passionate and committed to upholding the highest standards of the profession. Our HR community will only emerge stronger through this crisis.
• Once again, our deepest gratitude to all HR Professionals, who are standing in the frontline of your organisations amidst COVID-19.
Ouch and Ouch! Being a consultant and HR professional for most of my career, the two roles that I have been undertaking has been ranked as the Top 5 non-essential jobs by The Sunday Times.
The HR function or more recently, the Human Capital function is an 18th century invention in the wake of the industrial revolution. It started as a personnel department, focused on hiring and dishing out the daily wages to those who did a day's work. It evolved overtime to take on administrative roles that the Towkay's could not be bothered to manage. HR than morphed into an employee training department and by the 20th century, government and organisations began to realise that employee satisfaction affected employee retention and productivity.
The simultaneous changes and progress of technology and society led to the HR department that we know today, Compensation & Benefits Design; Talent Acquisition & Leadership Development; Organisation Design and Transformation; Workforce Transition and Development etc and, as well we are tasked to navigates the difficult social and cultural issues between employees and management.
An efficient human resource department is a neutral bridge between business leadership and the general employee population. Creating an HR department that can maintain a neutral position as both an employee and business advocate can be a difficult balancing act.
Indeed a difficult balancing act but no doubt an important one and perhaps, there are some truths as to why amongst the 1000 people survey, HR has been ranked as the 2nd last most desired profession by this publication. I remembered that I once interviewed a candidate for a HR executive position whilst working in the finance industry and towards the end of the interview, the candidate asked me if I had any openings in investment banking or private banking, her reason for asking – 'Because she heard from her peers that being an investment or private banker was a glamourous role and these jobs paid a lot more money.'
Being a HR professional, it is not about just about fame and fortune. It requires lots of patience and a keen ear to understand the pain points of our employees whilst that of the organisations. As a young HR consultant, I had the opportunity to travel widely to far flung places like Pakistan and East Africa. Whist in Pakistan, I was asked to design a job and salary structure and I was challenged by the business leader over a US$1 increase in wages for their manufacturing floor employees. I remembered, I fought hard for that US$1 increase as I realised that for US$1, it meant that a father or mother was able to send their children to school for a month, had enough to get three warm meals and meant that the family need not go to bed hungry and still had some savings left. It was not just about a salary benchmarking exercise; it was also being able to influence organizational leaders to lead with a sense of compassion, to be able to influence the organisation to look beyond the profits and provide a deeper sense of purpose of the organisation and its existence.
Being a HR professional, it is not about just about fame and fortune. It requires lots of patience and a keen ear to understand the pain points of our employees whilst that of the organisations. As a young HR consultant, I had the opportunity to travel widely to far flung places like Pakistan and East Africa. Whist in Pakistan, I was asked to design a job and salary structure and I was challenged by the business leader over a US$1 increase in wages for their manufacturing floor employees. I remembered, I fought hard for that US$1 increase as I realised that for US$1, it meant that a father or mother was able to send their children to school for a month, had enough to get three warm meals and meant that the family need not go to bed hungry and still had some savings left. It was not just about a salary benchmarking exercise; it was also being able to influence organizational leaders to lead with a sense of compassion, to be able to influence the organisation to look beyond the profits and provide a deeper sense of purpose of the organisation and its existence.
To be a HR professional, it requires lots of passion, it requires us to listen and to understand others and not jumped to conclusion. At times, what we see is not the real picture and it requires us to learn more about a situation before being able to offer the right solution. I recalled that I was once asked by my peer to seek a voluntary resignation of a 'non-performer' during our annual performance cycle and after interviewing this 'non-performer' and listening attentively to the issues, I found out that this employee had recently been diagnosed with diabetes and was finding it hard to adjust to his insulin jabs that resulted in low energy and further, his mental health was also greatly affected due to this medical discovery. Together with his supervisor we agreed to monitor the employee's performance and all I can say that it ended-well for everyone.
Our war stories will never be as glorious as putting multi-billion dollar deals together, nor be published in the press nor win any Nobel Peace prize. We do not yearn to be highlighted as doing great things. Our HR professional war stories are always at the back of house, though in more recent times, especially during this pandemic, we have been tasked and thrust to the front to keep our employees save, to try to save as many jobs as possible, working alongside the management as part of the task force to redesign roles, to look into reskilling and retraining our workforce, to look into how technology can make work more pleasant and more fun for you.
We are dealing with people and the only consistent aspect of people is that, it is always an exciting day as there are so many variables. So, if you want a consistent job with little variables, being a HR professional is definitely not your cup of tea.
Lastly, calling for all HR professionals to come forth and share your war stories, reasons why you are in your role, what have kept you in the role etc. ? @The Sunday Times/ The Straits Times may find it worthwhile to write a piece to provide justice to the "unglorified and silent HR Profession".
Best,
Alvin Goh
Executive Director, SHRI
Dear HR Colleagues and Members of HR Community,
I hope you are all taking good care of yourselves during this difficult times as a result of the COVID-19 pandemic. Extraordinary times calls for extraordinary measures. HR professionals like you and me are at the heart of helping our organisations and workers respond to this crisis. From travel disruptions,flexible work arrangements, safe distancing, Stay Home Notices, Leave of Absence, containment,sanitisation, giving our employees assurances and assessing vulnerable segments of the workforce, we are called upon to do everything possible to mitigate risks and ensure operational readiness of our businesses, while ensuring the safety and well-being of our employees.
In Singapore, Government advisories are being announced and updated frequently given the evolving COVID-19 situation locally and globally. Last Friday (20 March 2020), the Government introduced additional safe distancing measures to limit close contact and large gatherings of people in close proximity over a prolonged duration.
This is the time for the HR community to demonstrate our leadership in progressive people practices,delicately balancing business needs, national needs and staff well-being, to help our businesses tide over this crisis, and to come out of it stronger. As a start, we must quickly familiarise ourselves with the advisories that has been pushed out as the situation unfold. The latest being the safe distancing measures that have just been sent out by tripartite partners (https://www.mom.gov.sg/covid19/advisory-on-social-distancing-measures).
One key measure in the advisory is for employers to facilitate telecommuting for their employees,especially vulnerable employees. Take advantage of this opportunity to intensify the implementation of flexi-work arrangements at the workplace through the use of technology. For some of us who may not
have the systems in place to support large-scale work from home for your employees at this time, there are other simple yet impactful measures that we can take. Enabling staggered work and lunch hours, splitting teams across different work sites and even encouraging employees to take-away food instead of eating at crowded food establishments can all contribute to greater social distancing and "flattening the curve"
Other measures in the advisory will require working closely with your business leaders, unions and other stakeholders to put in place measures such as ensuring physical separation in meeting rooms, canteens,rest areas, between work desks and even within the lift. Not all solutions cost a lot of money and key is to adopt a new way of working without close contact. This is an opportunity for HR to step up and implement meaningful measures that support business continuity and the well-being of employees.
By doing our part as the HR community to ensure safe distancing at our workplaces, we contribute to the overall national effort to contain the spread of COVID-19 in Singapore. Our Government agencies can also focus on other efforts to suppress the spread of COVID-19 in Singapore.
Some immediate best practices as compiled from the HR community:
Telecommute where possible
Staggered/ Flexible Working Arrangements for employees that need to come back to the office
If commuting to the office is necessary/ needed, try to stagger hours by minimum 3 time slots,with no more than 50% of employees at any time slot. This helps spread out commuting times,especially during peak periods
Avoid crowded places and practice social safe distancing for any face to face meetings
Pack lunch from home or order take outs rather than eating at crowded places
Don't share food and avoid buffets.
Create a buddy system to remind each other to practice proper hygiene
Take care of each other and safe distancing does not mean isolation – so do keep in close contact with each other, safely!
Finally, I encourage you to continue to keep in close contact with your HR community and tap on SHRI to guide and advise you as we journey through this difficult phase together.
Together, as SGUnited, we will overcome COVID-19!
Meanwhile, Stay safe, Stay healthy
Yours Sincerely,
Peck Kem, President
Alvin Goh, Executive Director
SHRI
---
Latest update and advisory on COVID-19:
https://www.moh.gov.sg/covid-19
https://www.mom.gov.sg/covid-19